How to Style and Maintain Curly Bangs
Curly hair can be a blessing and a curse. If you have curly hair, chances are you know what it's like to battle against frizz and humidity. And if you're starting to grow out your curly bangs, you may be wondering how to style them, so they look their best. Don't worry – we're here to help! In this post, we'll show you how to style and maintain curly bangs, so they look great every day. Keep reading for our top tips!
How to take care of curly bangs?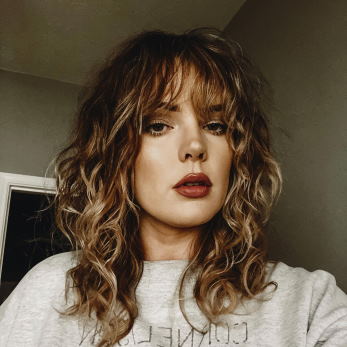 If you're like most women, you probably change your hairstyle frequently. And if you have curly hair, you know that finding flattering styles can be a bit of a challenge. So, one option that many women with curly hair are choosing lately is to curly their bangs. This can be a great way to show off your curls and add some personality to your look. But if you're not sure how to take care of your curly bangs, you may end up with a mess on your hands. So here are a few tips for taking care of your curly bangs, so they always look their best.
Curly bangs can be a fun and flirty addition to your style, but they require a bit more maintenance than straight bangs. Here are a few tips on how to style and maintain curly bangs:
Use a curl-defining cream or gel when styling your bangs. This will help them hold their shape and keep frizz at bay.
Try not to touch your curls once they're styled. Finger combing can cause frizz and disrupt the curl pattern.
Use a wide-tooth comb to detangle your hair before bedtime gently. This will help reduce tangles and knots in the morning.

Ways to cutting curly bangs
There are a few ways to cutting curly bangs. You can cut them straight across, in a curved shape, or angled. It is best to avoid blunt cuts if you have curly hair because they will make your curls more defined. An excellent way to cut curly bangs is to wet them down and then use a small amount of styling product before you start cutting. This will help keep them from becoming too frizzy.
When cutting curly bangs, always start with the most extended layer and work your way up so that you get an even look. Be sure to trim any errant hairs around the edges for a polished finish. Finally, blow-dry your bangs using a diffuser attachment to give them some volume.
You can also cut your curly bangs if you have straight hair by using a curling iron to create some waves. Start by sectioning off your bangs and then curl them away from your face. Hold the curls in place for a few seconds before releasing them. Finish with a light mist of hairspray to keep them in place all day long.